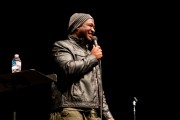 Enjoying Spring Break with comedian Ed Blaze and Friends tour for their one night stand up comedy show in Syracuse - Once A Year!
Syracuse, NY, March 22, 2015 (Newswire.com) - The Oncenter War Memorial -  welcomes Comedian Ed Blaze & Friends Tour for a One Night Show at The Mulroy Civic Center Theaters
Fresh from sold-out engagements in Boston, Ed Blaze and Friends are bringing their must-see show to Syracuse.  Blaze, who rose from humble beginnings in Tanzania to opening for Bill Cosby, Dave Chappelle, Jim Gaffigan and Ralphie May, delivers jokes on a wide array of topics — including African culture, politics, pop culture, race and human sexuality. Ed Blaze and Friends features a revolving lineup of other stand-up comedians — a mixture of headliners who have been featured on STARZ, BET, Comedy Central and HBO — ready to bring their A-game to make you laugh. 
I love doing comedy because it unite people, it makes me feel like we're flowers in one garden, Some are yellow, Some are Red, some smell good, some don't – but we're all flowers; I felt bad one night I was doing a show in Washington DC and an older gentleman in the audience using a breathing gas tank, he was laughing so hard he almost passed out, I had to stop the show for few minutes to make sure he was ok "Ed Blaze said"
http://www.ticketmaster.com/Ed-Blaze-tickets/artist/1897814
Blaze, who plays to sold-out performance spaces throughout the country, is well-known for his unique brand of humor. Born in a village in Tanzania in Central East Africa and brought up by his grandparents, Blaze recalls those days in comedic fashion. His early years in the "family hut" give him reams of comedy material.
But his comedic genius doesn't stop with reflections on his youth. Expect his views on modern culture, politics, sexual relationships, and race.
Seeing Blaze will not only bring joy to his audience, but all performances benefit Make-A-Wish. Active in nearly 50 countries, Make-A-Wish is the largest wish-granting organization in the world: More than 334,000 wishes worldwide have come true.
Make-A-Wish recently granted its 250,000th Wish to a child in the United States with a life-threatening medical condition.
Share: