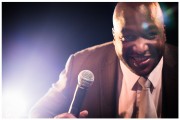 Tanzanian comedian brings his world-class comedy tour to the Oncenter in Syracuse, New York, March 27th.
Syracuse, NY, February 20, 2015 (Newswire.com) - The host of Ed Blaze & Friends, comedian Ed Blaze, will present an array of world-class comedians at the Oncenter in Syracuse, NY on March 27th, 2015, at 8pm and 10pm. Among the "Friends" talent are headliners Frank Vignola, Nema Williams, and Angela Cobb, who have starred on networks such as STARZ, BET, Comedy Central, and HBO. Ed Blaze & Friends performed two sold out shows in Boston for Valentine's Day weekend and are ready to make Syracuse laugh.  
"My name is Ed Blaze. I used to have an African name and I thought it was great," quips comedian Ed Blaze. "Until I came to America and found out it was just a bunch of random letters strung together."
Originally from Tanzania Africa, entertainer Ed Blaze, has opened for comic legends such as Dave Chappelle, Bill Cosby, Jim Gaffigan, and Ralphie May, and offers hilarity in the form of unexpected, outlandish observations about the cultural differences between his homeland and the western world. The talented stand up comedian touches on many topics, and nothing is off limits—including politics, marriage, race, pop culture, and sexuality.
Blaze is touring 65 cities this year with his comedic ensemble, coast to coast, with a final performance in his hometown of Washington, D.C., on November 14th. To see Blaze in action, visit www.edblaze.com, where you can watch hilarious clips and videos, as well as find information about upcoming tour dates, and special comedy shows.
Show Dates and Times:
March 27th, 2015 8pm and 10 pm
The Oncenter, 800 South State Street, Syracuse, NY 13202. T: 315-435-8000
Share: