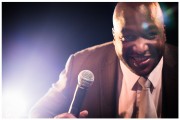 Reach 60,000-plus Fans of Comedy in 65 Cities over 10 Months during the Ed Blaze and Friends' Major U.S. Tour; Benefit from Make-A-Wish Connection
Washington, DC, February 9, 2015 (Newswire.com) - Fresh from sold-out engagements in Boston, Ed Blaze and Friends are bringing their A-game, must-see show to Syracuse, Rochester, Buffalo, and Cleveland. The Tanzanian-born comedian is touring 65 cities coast-to-coast, with a final performance in Washington, D.C., on November 14.
The "Friends," as in Ed Blaze and Friends, are a set of stand-up comedians featured on STARZ, BET, Comedy Central, and HBO. You never know who Blaze will bring for even more raucous laughter when he hits your city.
Blaze has opened for Bill Cosby, Dave Chappelle, Ralphie May, Jim Gaffigan, Gary Owens, Erin Foley, and Luenell Campbell, and never fails to delight audiences with his unique brand of humor.
Born in a village in Tanzania in Central East Africa and brought up by his grandparents, Blaze recalls those days in comedic fashion. His early years in the "family hut" give him reams of comedy material that will keep you in stitches.
His comedic genius doesn't stop with reflections on youth. Expect to learn his views on modern culture, politics, sexual relationships, and race before the evening ends.
 Next, laugh along with Blaze and Friends at the following venues:
 March 27: The Oncenter in Syracuse.
March 28: Hyatt Regency Rochester.
April 3: Hyatt Regency Buffalo/Hotel and Conference Center.
April 4: DoubleTree by Hilton Hotel Cleveland Downtown – Lakeside.
For all tour dates and venues, and to buy tickets, visit metrocomedy.com
Blaze Tour: Limited Sponsorship Opportunities Available
Become a tour sponsor to deliver your message, cost effectively, to select audiences throughout the country.
Your message won't be drowned out; it'll stand out.
Blaze's 65-city tour, spanning 10 months, is now making limited sponsorship opportunities available to companies and organizations.
Metro Comedy Media Director Jacob Warren estimates the tour will reach more than 60,000 fans of comedy.
Sponsors will garner more than 50 million impressions through various advertising campaigns, press releases, and on-site promotions, he says.
Warren says becoming a sponsor offers companies and organizations:
Unparalleled branding opportunities
Direct access to audiences nationwide by distributing coupons or product samples
Opportunities for on-stage presentations to generate awareness
For sponsorship-related information, contact Metro Comedy today. 
Make-A-Wish Connection
Seeing Blaze brings joy to his audience and benefits children with life-threatening medical conditions. A full 10% of ticket sales from each performance is donated to Make-A-Wish, the world's largest wish-granting organization, its website reports.
Founded in 1980, the charity is funded by individual donations and corporate sponsors. In the United States, Make-A-Wish grants 14,000-plus wishes a year through 61 chapters, which turn to volunteers and donors, plus other resources, to make wishes become realities. The organization grants a child's wish – in the United States and its territories – on average, every 38 minutes, according to the charity.
 For details, visit Make-A-Wish Foundation
Share: