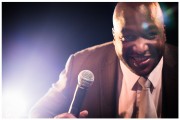 Ed Blaze's ludicrously funny line up is coming to One Show in Rochester, New York on March 28th, 2015.
Rochester, NY, February 26, 2015 (Newswire.com) - Fresh off of sold out engagements all across the eastern seaboard, Ed Blaze & Friends is making a one-night tour stop at One Show at the R.I.T. Inn & Conference Center in Henrietta, New York, on March 28th, 2015 at 8pm to 9:30pm. The host of Ed Blaze & Friends, Tanzanian comic Ed Blaze, presents an array of hilarious stand up acts including comic geniuses Frank Vignola, Nema Williams, and Angela Cobb, who have been featured on networks such as Comedy Central, STARZ, BET, and HBO. Blaze is donating 10% of all ticket sales to the Make a Wish Foundation, so you have an extra reason to feel good about having a good time.
Originally from Tanzania, Africa, the comedian Ed Blaze, rose quickly to stardom in the states, opening for comic veterans Bill Cosby, Dave Chappelle, Jim Gaffigan, and Ralphie May. Blaze offers a unique brand of humor, which often includes outlandish observations about the cultural differences between Africa and the western world, and offers a hysterical and unexpected commentary on topics like politics, marriage, race, pop culture, and sexuality.
"Being a stay at home dad is great," quips the comedian, Ed Blaze. "The only difference between me and other stay at home dads, is that I don't have any kids."
Blaze is touring 65 cities this year with his comedic ensemble, coast to coast, with a final performance in his hometown of Washington, D.C., on November 14th. To see Blaze in action, visit www.edblaze.com or www.metrocomedy.com - where you can watch hilarious clips and videos, as well as find information about upcoming tour dates, and special comedy shows.
Show Dates and Times: March 28th at 8pm – 9:30pm
One Show at The R.I.T Inn & Conference Center
5257 West Henrietta Road
Henrietta, New York 14467
Phone: (585) 359-1800
Share: